Sun-n-Fun 2013 (Apr 9, 2013 - Apr 14, 2013) - Lakeland, FL | Website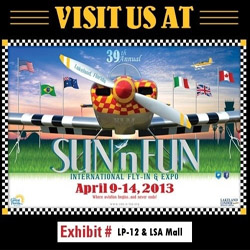 Early April, the skies over Lakeland will begin to receive thousands of aircraft that will signal the start of SUN 'n FUN 2013 and convert Lakeland Linder Regional Airport into the busiest airport in North America.

Tuesday, April 9th, is "Opening Day" of SUN 'n FUN's 39th annual gathering of the world of general aviation for its Spring Break for Pilots & friends. While the event started as a gathering of pilots who shared a common passion for aviation, it has grown to welcome all who enjoy the inspirations and thrills that aviation offers. The 2013 SUN 'n FUN International Fly-In & Expo will attract an estimated 160,000 to 170,000 visitors from Central Florida, North America and more than 80 other countries. The event is the largest aviation convention in the state of Florida and the first major international aviation event of the year in the Americas.

The SUN 'n FUN event (the major fundraiser to support the educational mission of SUN 'n FUN) is staged on the south side of the Lakeland Linder Regional Airport. It sparks all levels of aviation interests from student to active "veteran" pilots, to "homebuilders" (people who design, build and fly their own airplanes!) and armchair enthusiasts, many who continue to nurture the dream to fly. On the ground, one will encounter nearly every form of man's imagination in the pursuit of flight, from the one seat ultralight to a daunting Boeing B-29 FIFI from the Commemorative Air Force.

SUN 'n FUN features 500 plus exhibitors both outside on the campus and in four dedicated Exhibit Hangars. Attendees will have the opportunity to review and shop the latest developments in aircraft design, aircraft avionics, pilot equipment, supplies and services plus a variety of aviation oriented art work, apparel and jewelry.

The SUN 'n FUN campus will showcase a world-class concentration of vintage, warbird, homebuilt, factory built, rotorcraft, ultralight, light sport, hot air balloon, aerobatic and current military aircraft that add to the memorable experiences for SUN 'n FUN guests throughout the week. A partnership with nearby Fantasy of Flight will provide a home for SUN 'n FUN's seaplane Annual Splash-In on Lake Agnes on Thursday, March 29.

As most residents of Lakeland can attest, the skies southwest of the city are a constant changing matrix of airplanes from sunrise to sunset. A highlight each day is the popular SUN 'n FUN daily airshow, which is known as one of the finest and largest displays of aerobatic talent in the country. This year the show will begin at 1:00 PM and conclude at 5:00 PM. each day.
Source: Sun-n-Fun Website
Contact Details
AB Flight
Queen City Airport
1730 Vultee St.
Allentown, PA 18103
(610) 762-9909