AB Flight went above and beyond just teaching me how to fly. From the moment I sat down in the plane with the instructor, I felt like I had made a lifelong friend. Thanks AB Flight, I now have my wings!
Meet Your Pilot Examiner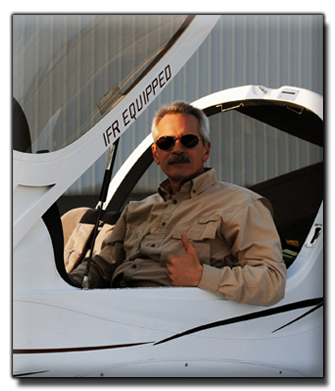 Art Tarola - CFI, DPE, SPE, SFIE, FAAST
For over 30 years Art Tarola, having established himself as a major player in the aviation community and in many ways has sealed himself as a leader therein. Having built his first aircraft in 1981, a Mitchell B-10, he soon followed with building 2 more. After about 4 years flying the Mitchell, he moved to building two Maxair Drifter Ultralight Tainers and began training people to fly ultralights. Art would then spend the next 17 years in ultralight training. However he would soon find himself back in the shop working on his 6th aircraft a Rans S-9 Chaos Experimental aircraft, a design for aerobatic flight. The following year, Art began studying to earn a degree in Aviation Maintenance Technology from the Upper Bucks Institute of Aeronautics and he didn't stop there. With the emergence of the Sport Pilot certificate program, Art found himself again training to become a Certified Flight Instructor which he achieved in August of 2005. Since then, Art has seen over 200 people gain their Sport Pilot Certificate under his instruction and that number continues to grow to this day.

A year after he gained his CFI license, Art again began pursuing further certifications such as a Designated Pilot Examiner and Sport Pilot Examiner. A year thereafter, he became a Designated Flight Instructor Examiner and Sport Flight Instructor Examiner.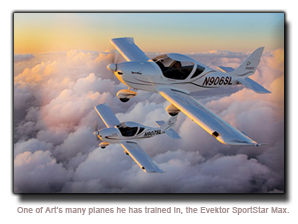 He now was not only training people to fly, but was teaching others to teach which aligns with Arts life objective, "To Support the Experimental Amateur Built and Light Sport Aviation Community by offering flight training, pilot examiner services, light sport aircraft sales, parts, and maintenance; to improving the safety record of experimental amateur built and light sport aircraft though education in the areas of airworthiness and operations.

Art is also a proud member of NAFI, National Association of Flight Instructors, AOPA, Aircraft Owners and Pilots Association, EAA, Experimental Aircraft Association, LAMA, Light Aircraft Manufacturers Association, FAASTeam, Federal Aviation Administration Safety Team "of which Art earned the title Rep of the Year in 2011". Art is an importer of the Evektor line of Light Sport aircraft, a line that is unsurpassed in its strength, reputation, and comfort. He has also written a few publications regarding Light Sport Aircraft and has been featured in many, many articles both online and in print.
Contact Details
AB Flight
Queen City Airport
1730 Vultee St.
Allentown, PA 18103
(610) 762-9909