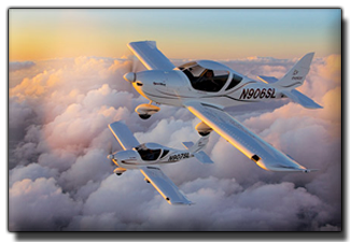 Evektor SportStar LSA

Safety
Nothing is more important to us than your safety. Over 40 year's experience in aircraft manufacturing, EASA certified aircraft production and using the latest technologies are the base for reliability and safety of our airplanes. The SportStar MAX passed through extensive testing to meet Airworthiness Standards of many countries.

Aircraft design with safety in mind
The SportStar MAX was designed with significant importance paid to outstanding flight characteristics and handling qualities to ensure safe and reliable aircraft operation. The result of this effort is an easy to fly airplane with excellent handling qualities, uncompromising stability, proven ability to control spins and providing safe and reliable flying.
Canopy and airframe meets crew protection requirement of EASA JAR-VLA
The canopy and airframe is designed to handle turnover conditions and meets all the crew protection requirements of EASA JAR-VLA regulations. Seats are equipped with a 4-point seatbelt restraint system as standard.
All metal airframe safety benefits
The SportStar MAX advanced all-metal airframe with all joints of construction riveted as well as bonded brings significant safety benefits in area of airframe fatigue life and also improved crash characteristics including elimination of dangerous unzipping. The all metal airframe has been chosen for its proven long operating life, safety, easy controllability and low maintenance costs. Thanks to material stability all metal structures are durable and unlike composite structures aren´t susceptible to structural changes caused by UV radiation and high temperatures.
Ballistic Recovery System
For further enhancement of safety features the SportStar MAX can be equipped with a ballistic rescue system.
Reliability proven on 1000+ delivered airplanes
The SportStar MAX operation reliability has been proven on already over 1,000 LSA / UL airplanes manufactured by Evektor-Aerotechnik, which are operated in flight schools and by private individuals in different operation conditions in 40 countries worldwide.
Contact Details

AB Flight
Queen City Airport
1730 Vultee St.
Allentown, PA 18103
(610) 762-9909