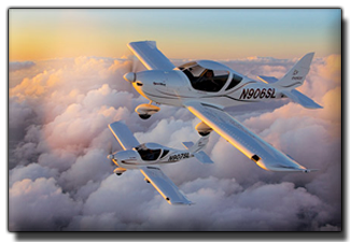 Evektor SportStar LSA

Interior & Comfort
Eye-catching luxury and elegancy, supreme spaciousness and comfort for your touring pleasure.
Elegancy & Supreme Comfort
The new ergonomic interior with eye-catching luxury & elegancy, outstanding spaciousness and state-of-the art avionics provide a supreme comfort for your touring pleasure. Comfortable seating with high backrests, adjustable pedals, stylish climate control, upholstered arm rests, bottle holders and other cockpit options will keep you relaxed on your long cross country flights.
Outstanding Spaciousness and All-round view
The cockpit has an amazing 1.18 meter / 46.5 inches of shoulder room, providing enough space even for large / tall pilots. Panoramic canopy glazing with almost 360% all-round view provides you a perfect situational awareness in all phases of your flight, including take-off and landing.
Contact Details

AB Flight
Queen City Airport
1730 Vultee St.
Allentown, PA 18103
(610) 762-9909