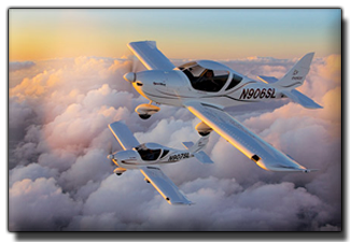 Evektor SportStar LSA

Overview
The SportStar MAX is top of the line S-SLA aircraft with comfort for business travel and handling ease of a great trainer. The airplane has become the very first aircraft in the world approved by the FAA in the U.S. S-LSA category and is holder of the prestigious "S-LSA Aircraft of the Year" honor from AeroNews Network (ANN).

Uncompromising General Aviation Quality
The SportStar MAX uncompromising build quality and reliability is based on Evektor-Aerotechnik´s certified aircraft production by the European Aviation Safety Agency - EASA, LAMA certification, ISO 9001:2008 Quality Management System as well as over 40 years Evektor-Aerotechnik´s experience in aircraft production. This means that the airplane is assembled according to the very best of today´s General Aviation standards.
Excellent strength & reliability proven in flight schools operation
Excellent handling qualities and stability, proven ability to control spins, metal airframe benefits and low operational costs make the SportStar MAX popular in flight schools worldwide. Excellent strength & operation reliability have been proven in flight schools operations in 40+ countries.
Setting a new standard in travel comfort
The elegant & sporty styling, supreme cockpit comfort and excellent flight characteristics express charisma and Evektor´s dedication to flying passion. Spacious cockpit with an amazing 46.5 / 1.18 meter shoulder room, unbeatable up to 640 lb / 290 kg useful load and 700 nm / 1300 km range make the SportStar MAX number one choice for LSA pilot touring. Get extra power for your flights in hot & high areas with SportStar MAX Turbo powered by turbocharged Rotax 914.
Video Review of Evektor Sportstar
Contact Details

AB Flight
Queen City Airport
1730 Vultee St.
Allentown, PA 18103
(610) 762-9909